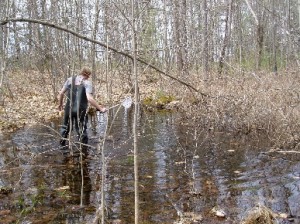 Wetlands, ponds, lakes, and streams receive protection by Federal, State, and Local regulations. Both public and private projects must meet strict standards of environmental acceptability. The types of wetlands present on your project site may affect the extent of protection.
Each project and project site is unique, and Jones Associates, Inc. will work with you to identify viable options that will lead to successful project completion. We have a long standing reputation for our success in evaluating wetlands, designing efficient projects and gaining approvals at local, state and federal levels.
We are members of the Maine Association of Wetland Scientists, and our expertise has created a demand for presentations by our staff for training at a number of conferences and training sessions in Maine.
Our Services Include:
Delineating (mapping) wetlands
Surveys for rare, threatened, and endangered species
Natural resource inventories, vegetation mapping, habitat evaluations and assessments of biological impacts
Invasive Species Identification
Vernal Pool Identification and Monitoring
Wetland functional assessments
Jones Associates, Inc. has designed and implemented numerous environmental solutions to restore and protect wetlands and other sensitive habitats for compensatory mitigation.
Wetland mitigation and restoration design
Stream, Flood plain and Riparian restoration design
Vernal Pool Design
Bioretention system design